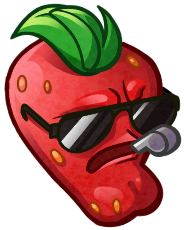 Hello all, hELLRA here, i'm a retired MTG player. I'm currently playing this new game and I hope I can help some new players with a few decks for PvZ:H.
This is my deck for Solar Bolt based on the Sergeant Strongberry OTK combo. This deck relies on playing defensively until you got the cards to destroy your opponent. The deck has a lot of removal and some healing. The legendaries included here will also help you on the hard matchups.
UPDATE 1: -1 2nd Best Taco / +1 Sergeant Strongberry.
UPDATE 2: -1 Water Balloon / +1 Sergeant Strongberry.
UPDATE 3: -2 Sizzle / +2 Sour Grapes
-Morning Glory: on early turns play it as a X/2 zombie killer. After T5 you can play it for bonus healing from Power Flower. After T6 play it as an X/3 zombie killer or a damage dealer.
-Berry Blast: one of the combo cards, this one played with the 2 Sergeants on the table just triggers our infinite combo to the enemy player. Also on early turns you can use it as a removal.
-Sage Sage: our draw plant, try to not play it after T6 for the draw trick, only play it before if you already have any combo option for late game or if you need some defense.
-Wild Berry: use this as an X/4 zombie killer or as a damage dealer to put some pressure to the enemy hero.
-2nd-Best Taco of All Time: our healing and draw card, ver useful trick for control decks.
-Whack-a-Zombie: our small zombies removal trick.
-Sergeant Strongberry: the combo guys, when both played just play a Berry Blast to the enemy hero and bye bye, another possible combo is trigger Grapes of Wrath twice or even a 2x Wild Berry hit.
-Power Flower: love this plant, strikethrough, healing and good health.
-Sizzle: our big zombies removal trick.
-Squash: another removal trick.
-Dandy Lion King: this one will really help you on mid and late game if the enemy hero is still on high health. Remember to manage the enemy shield properly to avoid blocking the ability.
-Grapes of Wrath: probably a play this and win because the enemy hero is already on low health, if not just try to play it with Sergeant Strongberry and deal 12 damage.
-Cornucopia: nothing to explain here, for hard late games just play this and try to save your ass 🙂
-Dandy Lion King: try to replace for Laser BeanStrikethrough
-Cornucopia: replace for Kernel CornWhen played: Do 4 damage to each Zombie. or another Grapes of WrathWhen destroyed: Do 6 damage to the Zombie Hero. or also Laser BeanStrikethrough
Spanish Video for Solar Sergeant deck
Si eres de habla hispana no olvides pasarte por mi canal de youtube! Gracias!!!
https://www.youtube.com/h3llra
That's all folks, I hope you like this deck and enjoy playing it. I'm opened to any suggestion you can do to make this deck more competitive. Thank you.